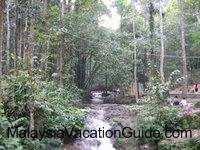 Sungai Tekala Recreational Forest
Are you looking for a good Malaysia Waterfalls to go to? If you are, head for Sungai Tekala Recreational Forest which is located about 14km away from the town of Semenyih in the district of Hulu Langat, Selangor. The distance from Kuala Lumpur is approximately 50km. This recreation park was established in 1982 for the public to enjoy the beauty of the tropical rainforest in Selangor.
The waterfalls here are easily accessible with plenty of parking bays. Concrete steps have been built to enable you to climb up to the cascading waterfalls which is usually crowded especially during the weekends. This place is an ideal get-away for the entire family as you will be able to reach the waterfalls within 10 minutes of walking from the entrance.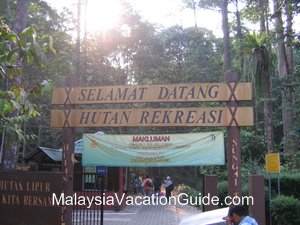 The entrance to Sungai Tekala Recreational Forest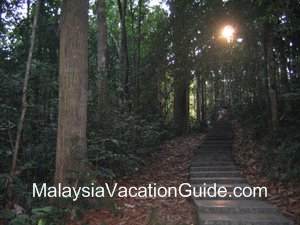 The concrete steps that leads you to the many cascaded waterfalls.
During the weekends, you will see many families having picnic and swimming at this lush tropical rainforest. You will even learn the names of the trees as there are good signages that are placed near the trees. Among them are Jelutong and Merbau trees. Cicadas can be seen here as well.
The crystal clear and cool water here is safe for you to enjoy as it originates from the hill.
Facilities
This park has basic facilities such as rest huts that are built near the steps that lead to the waterfalls. These huts with benches are ideal for picnic and act as shelter from the sun and rain.
Toilets are also available near the entrance to the park. Changing rooms are randomly located near the waterfalls for you to use.
There are many stalls that sell food stuff at the entrance of the park. If you are on tight budget, it is better to bring your own food as the food prices here is higher than if you were to purchase them at the supermarket.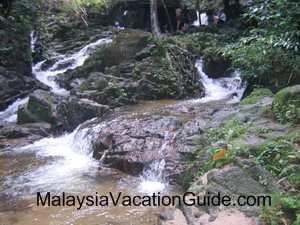 One of the many waterfalls that you will encounter as you go up the forest.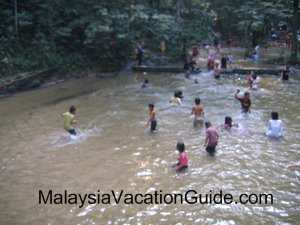 Children enjoying themselves at the down-stream of the waterfalls.
Admission Fees and Operation Hours
The admission fee is RM1 per adult and RM0.50 per child (12 years and below). The admission fee was implemented since July 1, 2007. Opening time of the park is from 7am to 7pm everyday.
Getting To Sungai Tekala Malaysia Waterfalls
If you are driving, head for KL-Seremban Highway and exit at Kajang toll. Follow the signage to Semenyih town and turn to the road that leads you to this park near the mosque. You will have to travel another 14km before reaching here. Along the way, you will pass by Nirwana Memorial Park, a well managed burial site. You will also pass by an Ostrich Farm as well as one or two fishing lakes.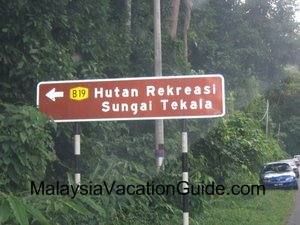 The signage to Sungai Tekala Recreational Forest.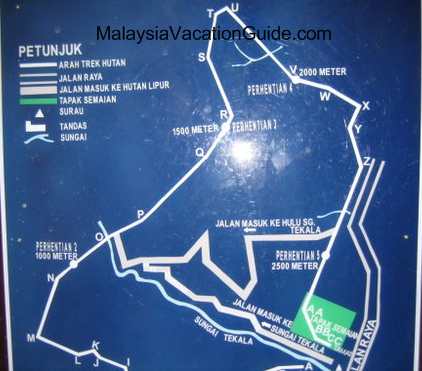 If you are into trekking, this is a good place to do so.
source: http://www.malaysiavacationguide.com