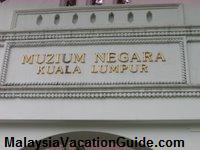 The National Museum is located within walking distance from KL Sentral. If you are in Lake Garden, you will be able to see the museum as it has a distinctive Minangkabau-styled roof. Walking from Lake Garden will take you approximately 20 minutes to reach the museum. The museum contains vast artifacts and exhibits that trace the history of the nation of Malaysia.
This building was officially opened in August 31, 1963 by His Majesty the Third Yang diPertuan Agong of Malaysia. It has a Minangkabau-styled roof and two front murals. The murals of Italian glass mosaic highlights the significant events and crafts of Malaysia. There are 4 main galleries namely Culture, Faces of Malaysia, Natural History and Weaponry, Traditional Musical Instruments and Ceramics.
| | |
| --- | --- |
| | The Minangkabau-styled architecture of the museum |
The outdoor of the museum has big displays that you can visit without having to purchase any ticket. You will be able to see old cars, a replica of an old Malay palace, steam locomotive and bull carts. The Malaysian Maritime Archaeology Exhibition is located in the vicinity of the museum where artifacts from 11 historical shipwreck salvaged is currently on display.
| | |
| --- | --- |
| | The replica of an old Malay palace at the compound of the National Museum |
| | |
| --- | --- |
| | Bull carts exhibit on display |
You can request for a guided tour of the National Museum and the surrounding galleries as there are volunteers who have signed up and have been trained to be guides for visitors. For a start, 25 volunteers comprising of foreign and local women from the Musuem Volunteers Malaysia (MVM) will be able to provide a guided tour in French or English. They have been trained in the history of Malaysia, Malacca Malay sultanate, Malaysian handicraft, ceramics and jewellery.
The one-hour scheduled guided tours in English and French will be available at 9am on Tuesdays and 11am on Thursdays.If you are keen to have guided tour of the museum, make a reservation by calling +6 03 2282 6255 extension 206/287 or email mvmqueries@yahoo.com
The museum is also looking for more volunteers to help out as guides. You will be trained every Thursday morning for 3 months before being confirmed as a guide. Email or call using the contacts provided above to make an appointment.
Take the PUTRA LRT, KL Monorail or KTM Komuter train and stop at KL Sentral Station. If you don't mind walking, the museum can be reached in 15 minutes.
Another alternative is to take Intrakota Bus No. 33 or No. 35 at Jalan Lee or Bus No. 30 at Jalan Raja Laut.
If you drive, there is a big parking bay for you to park your car at a fee of RM2 per entry.
The opening hour to visit the National Museum is from 9:00am to 6:00pm daily.
The entrance fee is RM2 for adult and RM1 for children. Children below 12 years old do not have to pay.
Further information can be obtained by calling +603 2282 6255. or visit
National Museum
website.