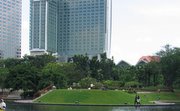 Petronas Towers construction work began in 1995 and by the time it was completed in 1998, it held the world record as the tallest building in the world until year 2004 when Taipei 101 takes over the record. It has a height of 451.9 m and each tower has a total of 88 floors serviced by 78 high speed elevators. One will be able to observe that the structure is made from steel and glass and is a stark constrast to many other high tower buildings in the city.



The towers are linked to one another through a skybridge on 41st and 42nd floors. The bridge has a height of 170m and a length of 58m. Visitors can visit the skybridge for free by getting the passes which are handed out everyday from 8:30am onwards except on Monday. As the passes are limited and given out on "first come first serve basis", one has to be there early as they will usually run out by noon.


The Petronas Towers
taken from KLCC Park


Once up the towers, you will be able to see the beautiful scenery of Kuala Lumpur. Equipped yourself with a binocular to see the spectacular view of the city and its surrounding. Surrounding the towers is Kuala Lumpur City Centre where the state of the art Kuala Lumpur Convention Centre is located.
Suria shopping mall and a five star Mandarin Oriental
Hotel
are located here. There is also KLCC park which is equipped with good children playground and pools for the young at heart to play. If you are into orchestra, try watching the high quality orchestra that is performed at the Petronas Philharmonic Hall at ground floor of Tower 2.
| | |
| --- | --- |
| | KLCC Park |
The towers have been featured in many famous movie among which is the 1999 film "Entrapment" starred Sean Connery and Catherin Zeta-Jones.
Getting To Petronas Twin Towers
Getting to KLCC where the towers are located is convenient. You can take the PUTRA LRT to KLCC station which is cheaper compared to getting a cab. Take note that the towers are closed to the public on Mondays and the visiting hours is from 8:30am to 5.00pm.