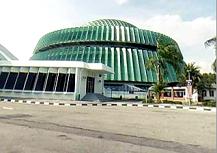 Known as Pusat Sains Negara in the official language of Malaysia, the National Science Center was officially opened on 29 November 1996 by former Prime Minister Tun Dr. Mahathir Mohamad. This center is located on a 8 hectares hill at Bukit Kiara, north west of the city of Kuala Lumpur. The purpose of this ceter is to promote science and technology in the country.
As you are about to arrive here, you will be able to see a building that looks like a cone that has been truncated and capped with a geodesic dome. This futuristic looking building houses many exhibitions on science and technology that will occupy you for at least half a day. Some of the themes that are exhibited here include Environmental Odyssey, Pathways to Discovery, Future World, Thinking Machine, Digital Lifestyle and Inventor's Corner.


The aquarium as you
enter the exhibit halls

| | |
| --- | --- |
| | The automotive technology in Malaysia |
The visit starts with an exhibit of freshwater aquarium where you will be able to see the big fishes that swim in the tunnel above your head. This is followed by the Environmental Odyssey where the tropical rainforest of Malaysia is simulated here. You will see the various creatures of the forests and a description of their habitats.
Some of the other themes that are on display at the galleries are:
Pathways to science exhibits the basic principles of science which include knowledge on the world of biology, chemistry, astronomy and physics.
Pathways to discovery shows the process of data collection, analysis and its interpretation. Take a closer look at the tools used in science and some archaelogical findings.
Children's educational centre helps communicate the learning of the universe and the ocean an interesting subjects by having real life simulation of the exhibits.
Thinking machines brings you to the advancement of robots, computers and other telecommunications technology that has changed the way we live.
Digital Lifestyle shows the modern day living as a result of the digital technology.
Inventor's corner shows the inventions that have made an impact globally to the lives of the people.

| | |
| --- | --- |
| | One of exhibits that shows the "stick insect" |

Remember to schedule your time of visit to watch the Space Science Show and Sky Movie on the 20m diameter dome screen.
Getting to National Science Center

Take the Rapid KL bus No. U83 from KL Sentral (Kompleks Kerajaan Jalan Duta Route) to PSN (Pusat Sains Negara) which operates from: (Monday - Friday): 6.00 am - 9.00 am 4.00 pm - 8.00 pm Address of the center: Pusat Sains Negara Pesiaran Bukit Kiara Bukit Kiara 50662 Kuala Lumpur The location map to the National Science Center can be obtained here.

Operation Hours Admission Fee

Operation Hours Fridays - Closed Saturday to Thursday - 9:00am to 5:00pm. Admission Fee Adults: RM6.00 Children: RM3.00 More information can be obtained by calling the center directly at Tel: +6 03 2092 1150